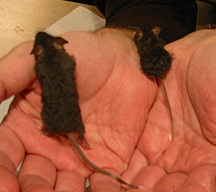 Lena is one of the eight pups born to Puddin' three weeks ago this past Saturday. In a few days, she will be four weeks old.
She is the one on the right in the picture above. For comparison's sake, when we took the photo this morning, we had her sister with her. As you can see, there is a very noticable difference in size. It only became apparent in the last 10 days. Before that, all the pups were growing at same rate.
From what we can tell, she is not ill, nor is she being ignored. We observe her nursing, she has started to nibble on adult food like her siblings, she explores the cage, snuggles with her Mom and siblings, etc. We began trying to supplement her with kitten formula using a feeding syringe, and she seems to enjoy the experience - both the extra little bits of food, as well as the attention. Her eyes are bright, and she seems happy. Just very small.
We're not sure why. Is she a runt? Or is there a small mouse strain/trait coming out in her? We're new to all of this. We've become rather fond of Lena, and hope all fares well...